To keep kids healthy and give them the energy they need to learn and play, having good healthy snacks are important. Many times we fill our cupboards with boxed snacks as a quick and easy alternative, but are your kids getting what they need from these snacks?
Below are snacks that are less processed and more natural. They may take a little more planning and a few more minutes to prepare, but your kids will be better equipped to make it through math tutoring or soccer practice.
Fruits
grapes- straight from the fridge, or try them frozen
apples- sliced or chunked. Tart apples are good sprinkled with salt. One of our favorites in our house is sliced apples dipped in peanut butter that has been sprinkled with cinnamon. (I learned this combo

YEARS

ago from Mr. Rogers!)
bananas- whole, sliced, rolled up in a tortilla with peanut butter. Also good frozen. This sounds and looks gross, but my mom used to mash a banana and stir in a spoonful of peanut butter and serve it to us.

YUM

!
Veggies
Try all different types of raw veggies. Kids love to dip, so if that haven't like a veggie in the past, a dip may make a difference. Ranch is yummy. You could make it healthier by using a ranch spice packet with yogurt instead of sour cream.
Another good dip is hummus, and full of protein!
If you want to add some fun to snack time, veggie shooters are very popular right now!
Smoothies
Kids love milkshakes and a smoothie can be a lot like a shake. Make it while they are not in the kitchen and you'll be surprised what you can throw in the blender! You can start with a handful of fresh spinach, and once you add the other ingredients, they will never know it is there!
Try any combinations of these (the fruits can be fresh or frozen): bananas, strawberries, pineapple (I have used canned) blueberries, cherries, peaches, mango.
Many times you will need a liquid, try any of these: milk, almond or soy milk, orange juice, grape juice. You can also add yogurt for protein.
Tip- If you want your smoothies icy, like a slushie, add ice cubes or use frozen fruit
Complex Carb snacks
tortilla chips with cheese sprinkled and melted in microwave, or dipped in salsa (salsa is made of veggies!)
toasted whole wheat bread with peanut butter or cheese
popcorn, for some variation sprinkle with parmesan cheese or cinnamon sugar
Triscuits (I love these, so natural, only 3 ingredients!) with a variety of dips or toppings we have already discussed above. My fave is hummus.
trail mix- buy your own, or buy in bulk and mix together the ingredients your kids will like
Here is a recipe for a trail mix from my friend Cris from Goodness Gracious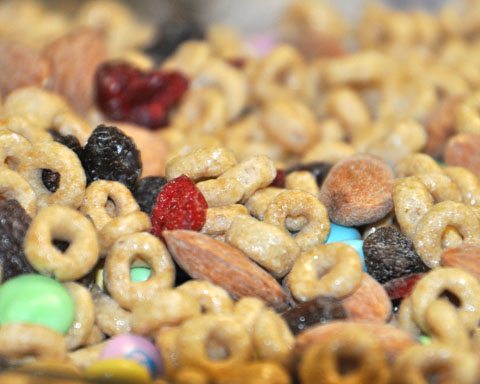 Protein snacks
string cheese – a staple in our house for YEARS
cheese cubes – use toothpicks for fun!
boiled eggs – slice in circles if you'd like
Prepping your snacks
The first thing you need to do is plan what snacks you want to have on hand and add to your grocery list.
Next, you need a way to store and organize your yummy snacks.
One way is by using the shoe organizer idea.
My friend Laura, from I'm an Organizing Junkie, suggests using baskets to corral your snacks in the pantry, and I think these would be a great idea in the fridge as well.
You could also use plastic ware, such as Gladware, to pre-package snacks, to have in the pantry or in the fridge. For less complex items, a ziptop bag would work just as well.
Being prepared is the big key here. This will save you from running through the drive-thru several afternoons a week, or from cranky irritable kids while you are trying to cook dinner!
What are some healthy snacks that your kids have loved?